De Nomade - house for newcomers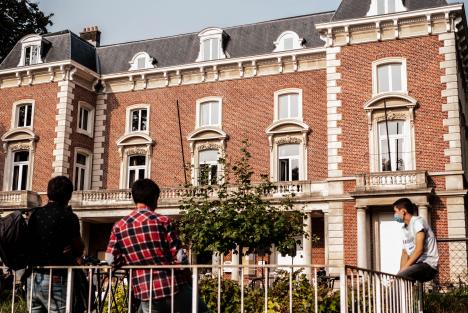 Contact
Heuvelhofpark
3010 Kessel-Lo
What can you contact us for?
The Nomade is an open house for vulnerable newcomers between the ages of 18 and 35.
Discover
Young newcomers can ask all their questions about life in Leuven, for example about living, working, education and leisure. The social organizations that guide them in Leuven are together in one place and answer all their questions.
Meet
Leuven residents and newcomers can attend activities and meet each other.
Unfold
Young newcomers can follow an activation trajectory that prepares them for training and employment.
Opening Hours
Current week
Monday November 29, 2021
Closed
Tuesday November 30, 2021
Wednesday December 1, 2021
Day after tomorrow
Closed
Sunday December 5, 2021
Closed
Closing Days
Saturday December 25, 2021
Kerstmis
Sunday December 26, 2021
Tweede kerstdag
Thursday December 30, 2021
Saturday January 1, 2022
Nieuwjaar
Sunday January 2, 2022
Tweede nieuwjaarsdag
Sunday April 17, 2022
Pasen
Monday April 18, 2022
Paasmaandag
Sunday May 1, 2022
Feest van de Arbeid
Thursday May 26, 2022
Onze-Lieve-Heer-Hemelvaart
Friday May 27, 2022
Brugdag
Sunday June 5, 2022
Pinksteren
Monday June 6, 2022
Pinkstermaandag
Monday July 11, 2022
Feest van de Vlaamse gemeenschap
Thursday July 21, 2022
Nationale Feestdag
Monday August 15, 2022
Onze-Lieve-Vrouw-Hemelvaart
Monday September 5, 2022
Leuven Kermis
Tuesday November 1, 2022
Allerheiligen
Wednesday November 2, 2022
Allerzielen
Friday November 11, 2022
Wapenstilstand
Sunday December 25, 2022
Kerstmis
Monday December 26, 2022
Tweede kerstdag